Do they need a trigger warning, or something?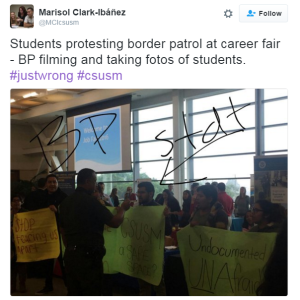 Students at the California State University, San Marcos staged a demonstration Thursday protesting the inclusion of Border Patrol representatives at the school's career fair.

Sociology professor Marisol Clark-Ibáñez tweeted a photo Thursday evening showing students holding signs with messages such as "Stop tearing us apart" and "CSUSM: A Safe Space?" in front of the table advertising positions with U.S. Customs and Border Protection (CBP), while a uniformed officer records them on a cell phone.