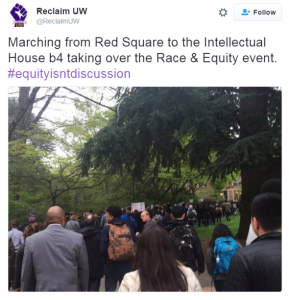 From the Campus Reform:
Hundreds of Black Lives Matter (BLM) students interrupted a discussion on race and equity, alleging that their school's office of "race and equity" is not committed to racial equity.

According to The Seattle Times, President Ana Mari Cauce of the University of Washington (UW) established an office of race and equity last year after a similar BLM protest occurred on her campus. Students, however, continue to insist that their school is not doing enough.