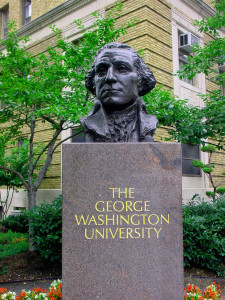 George Washington University President Steven Knapp issued a statement through his office after a flag controversy flared up at one of the university dorm halls. A student, who is Palestinian, hung a Palestinian flag outside his dorm room window at Shenkman Hall. It was reported to the administration police department because it was prohibited that an object be hung outside windows on campus. The student complied and the police officer wrote a report. But, what happened was that the report triggered an automatic warning letter to the student. The student believed he was being unduly singled out for having a Palestinian flag, when it was a simple administrative procedure.
Here is what President Knapp issued via the school's e-mail newsletter:
I am writing to address valid concerns about the university's response to a flag that was seen hanging outside a student's window at Shenkman Hall on October 26.

Let me begin by assuring you that I am committed to our doing everything we can to ensure that students of all backgrounds, nationalities, and beliefs feel welcome at this university and enjoy the fullest respect and support as they pursue the aspirations that brought them to George Washington in the first place.

Here is what occurred and what we are doing to make sure that a similar event does not occur in the future. When the flag was reported by a passerby to the GW Police Department, a police officer went to the student's room and explained that hanging any object outside a window was prohibited. This policy was adopted some years ago for safety reasons. The officer had no idea what kind of flag this was. The student immediately moved the flag, and the officer filed a routine report.

That should have been the end of the matter. Instead, the officer's report of the incident triggered the sending of a warning letter to the student. This was the result of what we now know was a flawed process that resulted in the student's receiving a standard warning letter even though he had immediately complied with the officer's request. The student was understandably alarmed and believed that the warning was based on the fact that the object he had hung from his window was a Palestinian flag. That was not the case, but, again, it was perfectly understandable that the student would interpret the letter in the way he did.

I have instructed the relevant offices to end the practice of sending warning letters to students solely because of a reported violation of a university policy. I have also instructed them to ensure consistent enforcement of all university policies.

At the same time, I have personally apologized to the student for this unfortunate incident and assured him that the university's actions were in no way a response to his expression of his beliefs or opinions.