Today, at the Heritage Foundation, 14 people from various walks of M. Stanton Evans' life gathered to honor him. To say there was more laughter than tears is only to note the hilarity of so many of the memories people shared of Stan, whose legendary dry wit is one of his indelible legacies.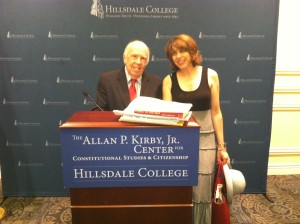 His far more significant legacy, however — his monumental and courageous life's work, his magnus opus, Blacklisted by History — did not receive nearly the same kind of attention. From the funeral service yesterday (no mention), from the remembrance event today (relatively little mention — my brief remarks below excepted), an onlooker would have a very different picture from the Stan I knew, starting from the day I called him up for the first time in 2010 or 2011. Of course, I had a question about Joe McCarthy. That was serious business with Stan.
I think my question went something like this: Mr. Evans, in light of all of these facts you have amassed to smash the false narrative on McCarthy, when in tarnation is the consensus going to shift?
Now, that was an icebreaker.
And today? I wonder what Stan would have made of the spectacle of his life being celebrated — except for what is surely his greatest, his most courageous and most enduring achievement.
After the celebration was over, I took an early spring day walk past Joe McCarthy's old townhouse on Capitol Hill mulling the answer.
—
My three-minute-remarks:
I first met Stan Evans on the day I started reading Blacklisted by History: The Untold Story of Sen. Joe McCarthy and His Fight against America's Enemies. I was a brand new reader in all ways. I didn't know the world and many accomplishments of Stanton Evans; I knew precious little about Senator McCarthy – just that he was most reviled man in American history.
As I read this remarkable book, I marveled, page by page, as the endless lies our society tells and tells repeatedly about Senator McCarthy were overturned by the weighty and meticulous evidence that Stan, in a superhuman feat, had marshalled. In the process, he revealed something completely new and different underneath.
I was electrified.
Informed and inspired, I would to go on to write a book of my own called American Betrayal,  which builds on the findings of Stanton Evans' magus opus, Blacklisted by History, further testing its shocking thesis: Much, very much of what we are taught about our 20th century history is false. Stan would always say he was a journalist not a historian, but he was without peer the leading McCarthy scholar of our time.
It was in the writing of my own book that I first took the opportunity to speak with Stan – I called him up, and thank goodness — and over the next several years we became very good friends, indeed. One day last year during his illness, we spoke of these things and he said to me: "You were the reader I was waiting for."
I can't think of words that have affected me more. I mention them because they speak to the lasting, very much living legacy of Stan's work. If we as a society have for half a century gotten practically everything wrong about McCarthy, starting with the basic fact that there were, indeed, as McCarthy told us, Communists and Soviet agents covertly embedded in the federal government; starting with the basic fact that McCarthy was a great patriot, not some devil-doll fetish object, what else have we gotten wrong? What other facts, what other heroes might be lost to us, buried beneath the construction of the false narratives that Stan disparaged as "court history"? What villians, what villainy has taken so many of our truths and truthtellers away from us?
These are big, enduring questions for all of us, all of Stan's readers, to ponder. At least some of the answers, lie, if we dig, within reach in a field I like to think of investigative history. Stan's final work, which is his follow-up to the McCarthy biography – Stalin's Secret Agents: The Subversion of Roosevelt's Government,co-authored with the late Herbert Romerstein, paves the way.
As we reflect on the many remarkable things Stan accomplished in his eight decades of life on earth, it is well worth noting he never stopped accomplishing. The Stan I am blessed to have known was ever on the hunt, still learning himself, always sharing his seemingly boundless knowledge — resolved to continue to unmask, to reveal, to seek the truth. We may take solace and inspiration both in the fact that everything we need to join him on this quest is right here, in these books.