The University of California-Santa Cruz, located in northern California, had a back-and-forth discussion with graduate student employees over cost-of-living adjustments and grades. These teaching assistants withheld undergraduate students' fall grades and protested what they perceived were outdated and unfair cost-of-living adjustments.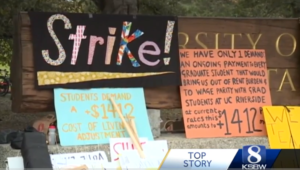 The university decided to fire 54 of the striking graduate teaching assistants who continued to withhold grades, while other protesting assistants submitted the grades. Initially, about 200 teaching assistants withheld grades.
Inside Higher Ed reported that the December 2019 protests evolved into a labor strike that spread to the University of California's Davis and Santa Barbara campuses. Yet the Santa Cruz campus was the only campus to fire the striking employees.
The graduate students sought between $1,400-$1,800 in extra funding each month to help make ends meet, depending on the campus location.
In a letter which warned teaching assistants, the administration said, "Your abandonment and sustained willful dereliction of your job responsibilities as a teaching fellow constitutes serious misconduct." It also noted that their conduct "has harmed graduate students and disrupted university operations." The letter declared that the graduate students risk the loss of financial aid, advising, and academic honors eligibility.
The graduate students' union was affiliated with the United Auto Workers labor union. The UAW 2865 local union published a statement which said that they "stand 100% in solidarity with those who were terminated at Santa Cruz." The union represents over 19,000 academic workers in the University of California system, per its statement, and it said that the union was "shocked by UC's callousness." The union called for the university administration to sit down and negotiate better cost-of-living conditions for graduate assistants.
The firings were not unexpected because the university said that it would fire non-compliant teaching assistants due to their action's impact on undergraduates' grades. Additionally, other graduate students said that they will not pick up the now-vacant teaching assistant roles as a sign of solidarity to those who were fired. Also, the UC-Santa Cruz graduate students allegedly violated their no-strike contract with the University of California system.
In short, the University of California-Santa Cruz called the strikers' bluff.