The U.S. Department of Education's report, "Succeeding Globally Through International Education and Engagement" tries to show how American students will gain more international experience. The report features six quotes by the department secretary Arne Duncan, with phrases such as "recipe for protectionism and global strife," "grow the pie for all" or "compassionate neighbors" and "global society." Here are the six quotes, with the corresponding dates, in full:
"The economic future of the United States rests not only on its ability to strengthen our education system but also on citizens in other nations raising their living standards. Thinking of the future as a contest among nations vying for larger pieces of a finite economic pie is a recipe for protectionism and global strife. Expanding educational attainment everywhere is the best way to grow the pie for all."  –March 3, 2011
"We must focus on integrating international perspectives into our classrooms. It is through education and exchange that we become better collaborators, competitors and compassionate neighbors in this global society." –November 14, 2011
"To be on track today for college and careers, students need the 21st century skills that are so vital to success in the global economy. They need to show that they can analyze and solve complex problems, communicate clearly, synthesize information, apply knowledge, and generalize learning to other settings." –March 14, 2012
"America is too far behind other countries in terms of math and science. Top students from around the world are more likely to be bilingual or even trilingual than our children." –October 2, 2012
"I am committed to benchmarking the practices and performance of top-performing countries because it can help America accelerate achievement and elevate the teaching profession. I am convinced that education leaders can better boost student learning by working together and sharing best practices, than by working alone." –May 24, 2011
"Education is now the key to eliminating gender inequality, to reducing poverty, to creating a sustainable planet, to preventing needless deaths and illness, and to fostering peace. And in a knowledge economy, education is the new currency by which nations maintain economic competitiveness and global prosperity. Education today is inseparable from the development of human capital." –March 3, 2011
The goals of the Department of Education, as they outline, are "a world-class education for all students; global competencies for all students; international benchmarking and applying lessons learned from other countries; and education diplomacy and engagement with other countries." The report says that their strategy "reflects ongoing work in implementing international education programs, participating in international benchmarking activities, and working closely with other countries and multilateral organizations."
Those goals and statements hint at the influence of Common Core within the Department of Education, which allegedly integrates international benchmarks and standards into a one-size-fits-all education model.
The report emphasizes an international influence and the appeal of developing "a globally competent citizenry," adding that there is no longer a need to "focus solely" on reading, writing, math and science. Instead, American students should learn how to "engage globally," so that these standards and "competencies" (a favorite buzzword of education experts) will better prepare Americans for an international future.
Continuing on that point, the report said a global focus will help American "economic competitiveness and jobs," address "global challenges" and "national security and diplomacy" as well as help promote "a diverse U.S. society." The authors of the report reasoned that students need to have "requisite global skills" such as "cultural awareness" and "an appreciation for other countries and cultures." Additionally, "climate change" is one of several issues that "cut across borders," and will push Americans to "work collaboratively with international peers to address these global challenges." Because the U.S. is a "multicultural society," the report said that Americans need "an appreciation for diverse viewpoints" to "facilitate civil discourse and a cohesive society" by appealing to immigrants' "wealth of cultural experiences and languages."
They cited education as a national security effort to help improve "global competencies" by understanding American history and politics in addition to international relations. A 2011 Woodrow Wilson Center paper, "A National Strategic Narrative," was cited because the authors were "two active military officers [who] argue that our success as a nation requires that we invest more in sustainable prosperity and the effective tools of public engagement and less on defense." Yet, the report concludes, "Our ability to support and strengthen nascent democracies, rests on the strength of our nation."
The international agenda exists to help "advance our nation's international priorities" through better educating American students. The following chart illustrates the international strategy of the Department of Education: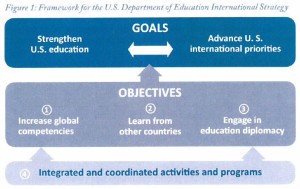 The international focus of American education is a "worthy" goal and the report mentions that  "a world-class education for all is not a zero-sum game: when individuals learn and nations succeed, it is a win-win for everyone." Arne Duncan and other education officials will resort to using this "megaphone" for "cross-cultural exchange," having already spoken about international American education at the Council of Foreign Relations, United Nations Educational, Scientific and Cultural Organizations (UNESCO) and World Bank.
These "internationally benchmarked college- and career-ready standards" have three major objectives:
"Increase the global competencies of all U.S. students, including those from traditionally disadvantaged groups"
"Enhance federal, state and local education policy and practice applying lessons learned from other countries to drive excellence and innovation in the U.S. and abroad"
Advance U.S. international priorities in strategically important countries through active education diplomacy"
"Develop, monitor and continuously improve ED's international activities in an integrated and coordinate manner"
The Common Core State Standards and Race to the Top, both one-size-fits-all education policies, are only mentioned by name once, on the sixth page of the report. The authors say that these policies put forward "rigorous standards" without defining the standards, and which countries are the models for the standards. No mention is made of how the standards were created by secretive committees, without the input of parents or teachers, and were untested (and highly unpopular). To emphasize the nobility of Common Core, Race to the Top and this report, the authors quoted Nelson Mandela in order to push learning another language instead of relying on English as the lingua franca of the world. There is a brief mention of Title VI, which is the international studies program of the Department of Education and has mostly been under-the-radar in the news cycle. [Accuracy in Academia has been covering Title VI Mid East Studies programs for years and finding them wanting.] And, the report briefly stated how these competencies will begin in elementary school and continue into college courses.
The second objective, enhancing American policy at the federal, state and local levels, speaks of the variety of assessments of American students and how Big Data can narrow down American student deficiencies. In their own words, "the Department is actively seeking ways to enhance the use of international data at the state and local levels as well." It also mentions how the Department of Education is using several pilot tests to improve results and how "the Department" is partnering with other countries to help discover why schools continue to underperform, such as Korea's Ministry of Education, Science and Technology. This "shared endeavor" will only help the U.S. in the future, the authors surmised.
Under the Obama administration, and based on this report, the Department of Education is now a part of the foreign and international relations arm of the U.S. government. "The Department is helping to further global stability and progress and, in turn, facilitate a world-class education at home and abroad," the report says. Also, they champion "this soft diplomacy" as helping national security and "our credibility as a leader among nations" as well as "national prosperity." But how does the Department of Education determine which countries to align with? By focusing "efforts on countries and regions of the world that are a priority for the Secretary of Education and other U.S. government officials" based on trade relations, economy size, "proximity and immigration patterns," as well as U.S. students abroad.
One of their "mutually beneficial and reciprocal relationships" is with China, where there is a "100,000 Strong Initiative to increase dramatically the number of Chinese students in the U.S." Other projects included education summits with India and Indonesia, along with a Joint Action Plan to Eliminate Racial and Ethnic Discrimination with Brazil. That program is where U.S. Historically Black Colleges and Universities (HBCU's like Howard or Morehouse) "increase collaboration through joint research…recruitment, retentions…STEM education and ethnic studies."
Their final objective is the shortest of the four, where the department is now "developing an annual implementation plan" that has not been finalized. This plan requires work with other government agencies like State, Commerce or the Agency for International Development (USAID) to "promote qualitative improvements in education, strengthen systems here and abroad, and promote international exchange."
The conclusion is that this international strategy "was developed to ensure the competitiveness of our nation and our workforce; educate our own increasingly diverse U.S. society; promote national security and diplomacy; and strengthen our ability to address global challenges." This is now a "core element in the work of the Department of Education" and whose strategy "reflects the importance of a world-class education for all, so that we have a nation, and a world, that is informed, engaged, and prepared to deal effectively with the global challenges that will face us."