Left-wing academics have made great strides: they now notice when things aren't going well. The Rubicon they've yet to cross: Acknowledging that policies they have supported had anything to do with it and the fork in the road is the Center for American Progress (CAP).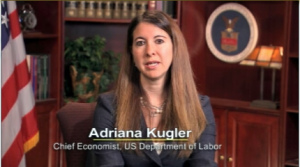 Recently at CAP, Adriana Kugler, a professor at Georgetown, pointed out that women of color tend to be part-time workers and have less work benefits as a result, such as paid vacations, sick leave and pre-ObamaCare health insurance.  Meanwhile, a recent CAP report entitled, "Aligning and Investing in Infant and Toddler Programs," concluded while "the Great Recession affected most Americans, people of color were hit particularly hard." This meant that "infants and toddlers of color [are] among the nation's most vulnerable populations." "Despite its wealth," the report stated, "the United States still feels the staggering effects of economic inequality, and too often, children of color pay the price."
Ironically, all of these things have happened but they occurred during the Obama years. The links between the president's favorite think tank and the president go far and deep. Indeed, CAP has served as both an incubator and a retirement home to administration officials. Additionally, Obama czars regularly keynote CAP events.
Thus, the critical thinking that CAP analysts pride themselves on is rarely used to dissect Obama Administration policies. Hence, rising unemployment and health care costs over the past half-decade have largely escaped their analyses.