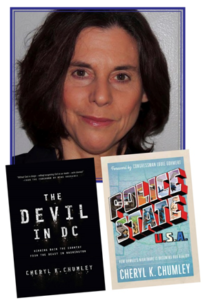 Whoever wins the White House in November will inherit the makings of a police state.
In her first two books—Police State U.S.A. and The Devil In D. C. — veteran reporter Cheryl Chumley shows us what that police state consists of and how it can be dismantled.  Both books are published by WND Books.
"In 2012, the mainstream media and liberal talking heads hit back at emerging reports of the EPA's use of drones to monitor compliance with environmental regulations, denouncing the claims as untrue and even mocking the claims in late-night comedy news shows," Chumley writes in Police State U.S.A. "But the EPA itself admitted on its website to a 2000-2009 project in collaboration with NASA to develop unmanned aerial vehicles — drones — to provide 'next-generation monitoring capability.'"
Chumley, currently a reporter for World Net Daily, also worked for The Washington Times. She will speak at Accuracy in Academia's next author's night on June 1, 2016 from 6-8 PM in the Van Andel Center at the Heritage Foundation, 214 Massachusetts Ave., NE.
Complimentary food and beverages will be available. The event is free but please R.S.V.P. to mal.kline@academia.org  or phone (202) 364-4401, ext. 112, in order for AIA to provide an accurate food order.