Can it be that students gather annually around the country to construct a "Model United Nations" because the real one has failed so miserably?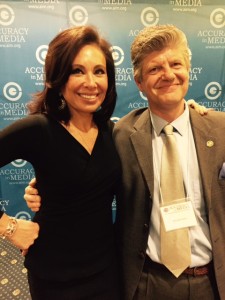 "What good does it do?" Judge Jeanine Pirro asked a packed, admittedly conservative audience at the Capitol Hill Club in Washington, D. C. last Tuesday. Judge Pirro was in town to receive this year's Reed Irvine award for investigative journalism from Accuracy in Media.
Judge Pirro suggested a two-pronged approach to the UN: Get out of it and get it out of New York. She also noted that when she served as DA in Westchester County, there were sex offenders and pedophiles they could not prosecute because they had diplomatic immunity.
Indeed, the United Nations was essentially created by an American traitor—Alger Hiss. "At the time he founded the U.N.―and Hiss was the first acting secretary-general of the organization―he was a State Department official," Cliff Kincaid wrote in a column for AIM which appeared in 2008. "He was convicted of perjury for denying that he was a Soviet spy."
"Ex-communist Whittaker Chambers had identified Hiss as a member of a communist spy ring and had evidence to prove it." Indeed, in their masterful history, Stalin's secret Agents: The Subversion of Roosevelt's Government, M. Stanton Evans and Herbert Romerstein show that Hiss's power extended well beyond UN issues. Evans reviewed the papers of Hiss's nominal supervisor, U. S. Secretary of State Edward R. Stettinus Jr., and found that Hiss virtually wrote the Yalta agreement signed by FDR, Churchill and Stalin which created the new world order after World War II.
Yet and still, the groundwork for Soviet dominance of the UN was laid by Hiss. When Stettinus's biographer asked him about "voting arrangements for the United Nations," he replied, "See Alger Hiss about that."
As it happens, the Soviets had a virtual veto in the UN for nearly the entire length of the Cold War. The one vote they lost—the decision to send a UN peacekeeping force into Korea—occurred because the Soviet representative did not show up that day to vote.
Over the decades, as the USSR swallowed up countries, the communist superpower increased its voting margins in the UN. These communist satellites euphemistically referred to themselves as non-aligned nations.
Here again, Hiss was present at the creation of what became the Eastern bloc. At Yalta, the fate of Eastern Europe and China, as Evans and Romerstein show, was sealed.