June has become an annual event of virtue signaling by corporations, politicians, and government agencies because the month was designated as "Pride Month." During June, prominent social media accounts typically change their logos to reflect the rainbow colors of the LGBTQIA+ movement. In the case of the Department of Education, it followed suit in kowtowing to the "Pride Month" festivities.
The federal education agency tweeted, "Everyone in the school community should feel valued for who they are & free to be their authentic self. Our message to LGBTQI+ students, teachers, and staff as we begin #PrideMonth: ED has got your back."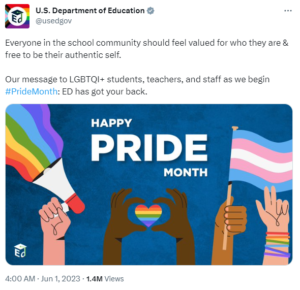 But the agency's tweet was widely criticized by conservatives on Twitter. Some called for parents to withdraw their children from public schools, which receive Department of Education funding, while others blasted the agency for focusing on "indoctrination" than their mission to improve education outcomes.
Pride Month has been around since 1970, but only became more prominent since the advent of social media. According to the History Channel, Pride Month began after the Stonewall Riots in 1969 and June was officially designated as a month of celebration of the LGBTQIA+ community by then-President Bill Clinton in 2000.
Yet the Department of Education's tweet demonstrates how LGBTQIA+ activists have outsized influence in the public square, considering that estimated population of LGBTQIA+ individuals has ranged between 2-5% of the U.S. population. The tweet highlighted legitimate concerns by conservatives that the federal agency should prioritize education issues, such as pandemic-induced learning loss and faltering test scores, instead of parroting gender identity politics.