The George Washington University Program on Extremism recently published a study on Islam-based extremism by sympathizers of the Islamic State (also known as ISIS, Daesh, or as the Obama administration says, ISIL). The study's executive summary noted that this recent trend of "ISIS-related mobilization in the United States has been unprecedented."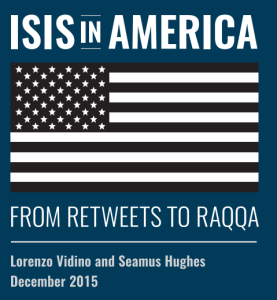 Some of the major findings from their report were the following:
250 Americans have traveled to Syria or Iraq to join ISIS, or have tried to.
900 active investigations against ISIS sympathizers in all 50 states.
71 individuals have been charged with ISIS-related activities since March 2014.
56 people have been arrested in 2015, "a record number of terrorism-related arrests for any year since 9/11."
The average age is 26.
86% are male.
Their activities were located in 21 states.
27% were involved in plots to carry out attacks on U.S. soil. (73% to carry out foreign attacks)
55% were arrested in an operation involving an informant and/or an undercover agent.
A small number of Americans have been killed in ISIS-related activities: three inside the U.S., at least a dozen abroad.
The report also cited United Nations data, where the U.N. Security Council estimated at least 25,000 foreign fighters from more than 100 countries have joined ISIS.