One person can make a difference, President John F. Kennedy said, and thanks to Hawaii State Rep. Bob McDermott (R) more people might try. The conservative dad took on the state's Education Department and scored a partial victory. Since December, Rep. McDermott has been a campaign of one, working to roll back Hawaii's explosive sex ed curriculum — which is so explicit it would make most adults blush. Homosexuality gets the state's support, as well as other controversial practices that parents should reserve the right to explain to their kids themselves.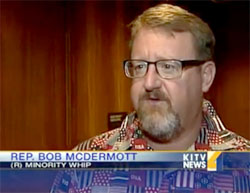 "I can assure you my 11-year-old girl knows nothing about anal sex, and one of the reasons is because she's not exposed to Pono Choices… I am a little uncomfortable saying [that], but this is what your children, your [sixth grade] children, are being taught," the state rep said. "To me, this is outrageous." Six months and an 18-page critique later, the agency finally budged, announcing that it would only teach the course to middle schoolers whose parents opt in, meaning that children are all exempted until their families say otherwise.
Not surprisingly, the Left (whose agenda is built on sexual liberalism) is howling that asking moms and dads' permission is somehow "gutting" the program. If only McDermott and others were so lucky. For the Hawaii representative and countless parents, however, the news was a major relief. Our hats go off to Bob McDermott for showing the kind of leadership too many elected officials lack!
Tony Perkins heads the Family Research Council. This article is excerpted from the Washington Update that he compiles for the FRC.
If you would like to comment on this article, e-mail mal.kline@academia.org.