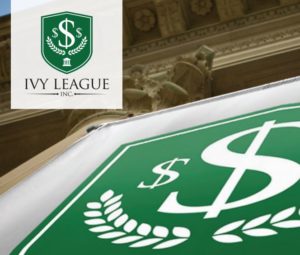 A report issued by Open The Books, a nonprofit watchdog group, revealed that Ivy League schools have benefited from taxpayer subsidies, tax breaks and federal payments from 2010 to 2015, to the tune of $41.59 billion. Eight universities compose the Ivy League: Brown University, Columbia University, Cornell University, Dartmouth College, Harvard University, the University of Pennsylvania, Princeton University, and Yale University.
As the group's name implies, Open The Books gets much information from federal government reports.
Many of Ivy League colleges and universities have significant endowments, ranging from Brown's $3.2 billion to Harvard's $35.7 billion. Their combined endowment funds total at least $119 billion, or $2 million per undergraduate student, the report said. Also according to the report, the federal government has sent over $25 billion to the Ivy League, in the form of contracts, grants and student aid. The universities also benefit from a 'special tax treatment' of their endowment funds of up to $9.56 billion.
Forty-seven administrators in the Ivy League schools earn more than $1 million a year, with two executives earning $20 million between 2010-2014. The report noted that Ivy League employee compensation totaled $62 billion from 2010-2014. The schools spent $17.8 million on lobbying during the same time period.
The Ivy League has a local property tax break of $3.7 billion, as well as $1.7 billion in tax-exempt construction bonds. State governments paid the Ivy League schools $1.7 billion during this time period. The report pointed out that "the eight colleges of the Ivy League received more money ($4.31 billion) – on average – annually from the federal government than sixteen states". Here is the list of states and the amount each state received:
South Dakota: $1.347 billion
North Dakota: $1.674 billion
Vermont: $3.412 billion
New Hampshire: $1.944 billion
Delaware: $2.063 billion
Montana: $2.189 billion
Hawaii: $2.250 billion
Wyoming: $2.298 billion
Maine: $2.422 billion
Rhode Island: $2.820 billion
Idaho: $2.837 billion
Nebraska: $2.908 billion
Alaska: $3.134 billion
Utah: $3.641 billion
Kansas: $3.882 billion