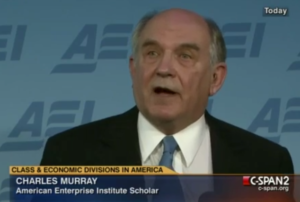 This past week, American Enterprise Institute (AEI) scholar and author, Charles Murray, gave two speeches at Duke University and Columbia University, without a violent protest at either campus.
This is newsworthy because his previous speech at Middlebury College was disrupted by 'black bloc' (i.e. anarchist) protesters. Murray was escorted out of the venue while protesters yelled at him and surrounded him and the event's moderator, whose hair was pulled and ended up needing a neck brace.
At Murray's speech at Duke, "Security was tight," reported Inside Higher Ed. But, no incidents came from the speech.
Columbia University students threatened to protest Murray's speech, with a socialist student group backing the protest. Yet, in the end, the Columbia University protesters were peaceful and respected Murray's remarks.
But, all the hoopla, outrage and attention was for naught as Murray was heard by the audiences at Duke and Columbia without a violent incident or 'heckler's veto,' where protesters 'veto' a speaker by drowning out the speaker's remarks with shouting and yelling.