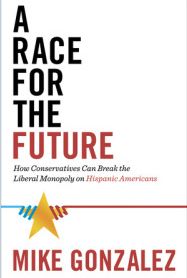 If you're in the D.C. area, come check out our free book event with author Mike Gonzalez on his new book, "Race for the Future: How Conservatives Can Break the Liberal Monopoly on Hispanic Americans." It will be a fun and informative event with a Q&A session toward the end. We hope you can make it!
It will be held at the Heritage Foundation, located at:
214 Massachusetts Ave NE, Washington, District of Columbia 20002
Please RSVP with Mal Kline at mal.kline@academia.org.
To read our director's review of the book, click HERE. The Facebook event page is located HERE and to get a copy of Mike's book online, click HERE.