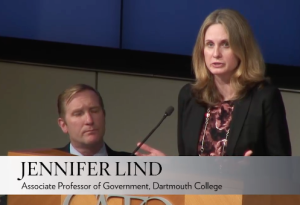 As China-Japan frictions are bubbling to the surface, there are legitimate concerns whether there will be an armed conflict in the near future, and whether the U.S. would back Japan in defending Japan in places such as the Senkaku (or Diaoyu) Islands. A panel discussion at the libertarian think tank Cato Institute featured associate professor in government at Dartmouth, Jennifer Lind.
Lind wanted to correct the media narrative and record that Japan is becoming militaristic in response to Chinese aggression, "The headlines are like Japanese security word bingo…all the same words are appearing again." She acknowledged, "There are big changes in the works [but] this conventional wisdom is wrong." She pointedly said, "Japan isn't abandoning pacifism now. It considered pacifism and abandoned it in the 1950s. It is not ground-breaking news."
She continued, "What we're witnessing in Japanese security policy is actually continuity as opposed to change, at least in Japan's strategic choices." She called this trend, "buck-passing," similar to passing-the-buck in the American Congress. This "buck-passing" became "the foundation of Japan's national security strategy," Lind said. Instead of taking full responsibility for their own security, Japan's "buck-passing" involves "having allies pay the cost of balancing" security in East Asia. In this case, Japan cedes the responsibility for security to the U.S. with bases in their country and the region at large. For example, Japan did not participate in the Korean War or the Vietnam War, Lind pointed out, as part of this "buck-passing" strategy.