The Foundation for Individual Rights in Education (FIRE) announced today that it is coordinating the filing of lawsuits against four universities as part of its new Stand Up For Speech Litigation Project.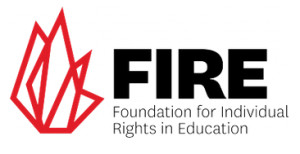 The project goal is to eliminate unconstitutional speech codes at universities by targeting First Amendment violations and initiating lawsuits. First Amendment attorney Robert Corn-Revere will serve as the leading counsel to students and faculty members participating in the project.
"For 15 years, FIRE has fought for free speech on campus using public awareness as our main weapon, but more is needed," said FIRE President Greg Lukianoff, "We have already coordinated two lawsuits in the past nine months, and this morning we brought four more."
Lukianoff says that the lawsuits will continue until campuses understand that "time is finally up for unconstitutional speech codes in academia."
FIRE announced support today for students who filed suit against Citrus College in California, Iowa State University, Chicago State University, and Ohio University for various First Amendment grievances and two lawsuits against Modesto Junior College in California and University of Hawaii at Hilo have already been coordinated.
The specific details of each case vary, but most of them are clearly First Amendment violations. For example, the lawsuit against Modesto Junior College in California was filed after a security guard and a staffer told a student that he couldn't pass out copies of the Constitution on Constitution Day 2013. The College settled the lawsuit for $50,000 and made policy revisions.
In a press conference today, Lukianoff explained that colleges and universitiesare not enclaves where the First Amendment is to be set aside. Students also expressed their frustrations with the extreme censorship they have experienced on their campuses,and said that with this announcement, they hope that more students will come forward to challenge speech codes at their schools.
According to thefire.org "FIRE is a nonprofit educational foundation that unites civil rights and civil liberties leaders, scholars, journalists, and public intellectuals from across the political and ideological spectrum on behalf of individual rights, freedom of expression, academic freedom, due process, and rights of conscience at our nation's colleges and universities."