In the Lone Star State, where open carry is now legal in public places, the Modern Language Association thought it was timely to protest guns on public college campuses, called "campus carry" by advocates and opponents alike. The language professors were in Austin, Texas for their annual convention and set aside time in their busy convention schedule to march up Congress Avenue to the limestone-colored State Capitol Building (which happens to be taller than the white-painted U.S. Capitol in Washington, D.C.).
About 100 professors were in attendance, with a handful of couples with their children, marching eight city blocks from a hotel conference center. Some wore bright orange t-shirts emblazoned with the phrase "Armed with Reason." One could say that they made themselves easy targets, for one reason or another. During the march, the professors chanted slogans such as "Armed with Reason," "No Guns, No Cops, No Violence," "Gun Free U-T, Keep It Safe for You and Me," "If We Don't Get It, Shut It Down," "Guns Don't Belong In School, They Are Not a Teaching Tool."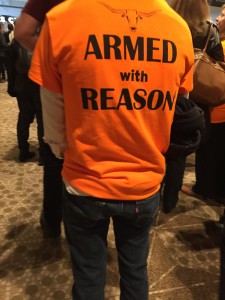 Many bystanders and passersby were confused by it and some recorded it on their smartphones, wondering who were the ones marching against guns and why do it at around 1 PM in downtown Austin.
The irony was rich in the anti-campus carry protest, where the protesters passed by not only state monuments to the heroes of the Alamo, but also a monument to the Confederacy. Half a dozen state troopers arrived in case any trouble arose, but were mostly relegated to bystander status.
The protesters stood in front of the Capitol building, continued to chant slogans, and quieted down for a series of speeches by designated professors and organizers. However, the bullhorn they used was not working. It could have been due to low batteries, but barely anyone outside a couple of feet of the speakers could hear the speeches.
In the end, despite their energy and excitement for these professors, there was no large crowd at the Capitol to welcome them, barely any press (other than your servant), and many confused Austin residents downtown.