The Black Lives Matter protest movement, found its way to the Modern Language Association (MLA) convention in Vancouver, but failed to attract much support from the left wing attendees.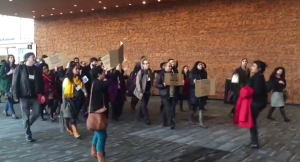 Despite an estimated 7,000 left-wing professors and their proteges in attendance, the protest managed to attract only about 150 people who listened to a litany of speeches vilifying police actions against blacks across the country. After the speeches it was time to actually march and more than half of those assembled apparently decided that their dedication to this issue didn't extend to spending any time in the 40 degree Vancouver weather.
I'm sure the organizers hoped to make a bigger splash considering both the size and makeup of the convention attendees, but it only proves that the Black Lives Matter movement is even too fringy for most left-wing academics.