Standardized tests such as the ACT and SAT are no longer required by George Washington University. In its weekly e-mail newsletter, the school proudly announced this shift in its admissions process.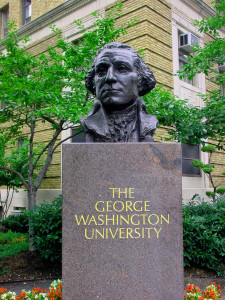 The move is effective August 1st, 2015, meaning that "those applying to GW for the 2016-17 school year will have the option to include" the test scores in their application or not to. What is the reasoning behind this? The school claimed the following:
"High school coursework and grades will continue to be the most important factors in GW's holistic review process, along with a student's writing skills, recommendations, involvement in school and community, and personal qualities and character. However, this year, students who do not think their SAT or ACT scores are an accurate reflection of their academic potential can choose not to submit them."

"The decision to adopt a "test-optional" policy was made in response to recommendations from the Access Committee of the university's Task Force on Access and Success."

"Members of the task force have been looking at the value of test scores in understanding how a student performs at GW. Their findings supported the conclusion reached by other universities and studies: One can predict success at GW based upon a student's high school record, especially his or her high school GPA."
The cynical might note that this move will likely increase the student body, and tuition revenues. GWU has been facing significant budget cuts, up to 5% across the board, and experienced the sudden resignation of its chief fundraising officer during a $1 billion fundraising campaign. That campaign has raised at least half of that amount, with the end date of 2018. Also, their newly-constructed science and engineering building's original financing plan was not met, meaning that the school will raise the rent prices at their commercial properties near the campus to make up $250 million of the original $275 million price tag.
An enrollment official at GW, Laurie Koehler, an enrollment official at GW, said:
"The test-optional policy should strengthen and diversify an already outstanding applicant pool and will broaden access for those high-achieving students who have historically been underrepresented at selective colleges and universities, including students of color, first-generation students and students from low-income households…"